All girls dream of the most fabulous day in their life, the day when they can wear a beautiful wedding dress and officially become the wife of their lover. Any wedding can be transformed by beautiful accessories and, in particular, printing elements - bonbonnieres, seating cards for guests, plates, labels for alcohol and invitations.
The first impression about the wedding is made by the guests just by invitation. With them, guests receive the news that you have decided to become a husband and wife, as well as all the necessary information about the wedding. By the way, invitations can hint to guests about the subject of your wedding, if they are made in the same style with it.
The contents of the article
Where to begin?
So, you are planning your wedding and come close to the stage of preparing the invitation. To do this, you need to make a list of guests to calculate how many invitations you need to prepare.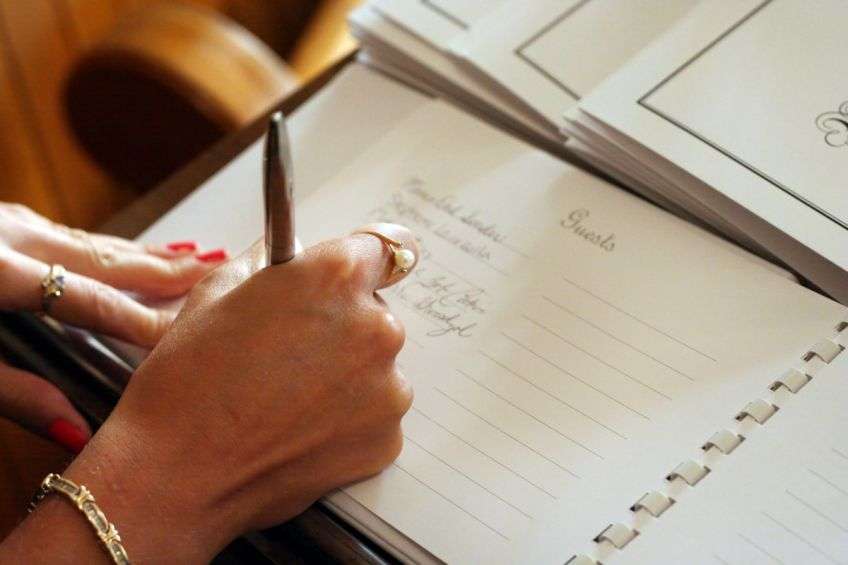 The next step is to choose the method wedding invitations . This is a very important process, because it will set the tone for your holiday to guests and adjust them to the desired wave. Conventionally, the following types of invitation can be distinguished:
printed (postcards, leaflets, scrolls, etc.);
video invitation;
other non-standard forms (e-card, sweets, puzzles, themed items, etc.).
Having defined the view, you can start to think over the invitation elements, the way of decoration and, of course, the text of the invitation to the wedding.
Guest Information
No matter what invitation you choose, they all have to perform primarily the information function and inform guests of important details.
So, in each invitation must be present:
wedding date;
the time of celebration (maybe 2 time ranges - official painting and a banquet);
location;
the names of the guests you invite;
names of the bride and groom.
It is advisable to sign the invitation by hand, it will not only be a sign of good tone, but will also be more valuable for your guests. It is better to sign the invitation cards to a person with a beautiful legible handwriting.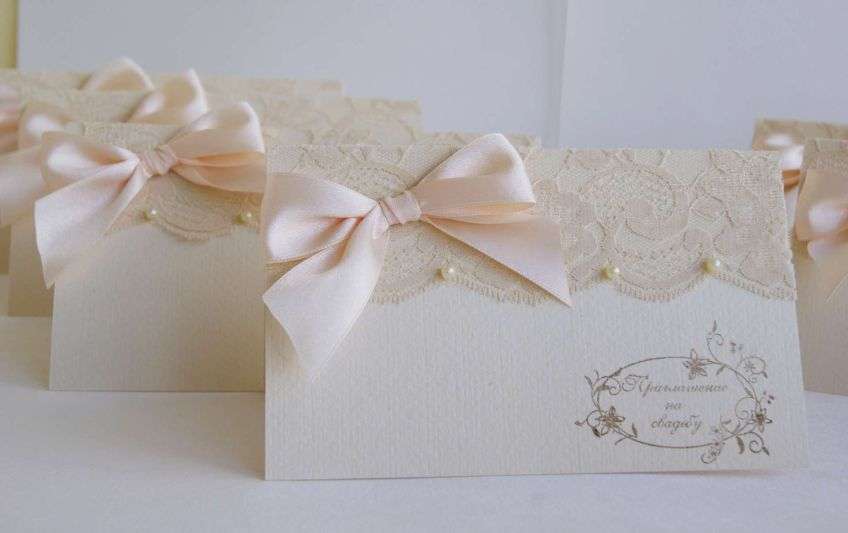 Also, the text of the invitation to the wedding may contain a notice of a specific dress code, this must be added to the registry. An interesting option would be to attach to the invitation card with the love story of the bride and groom. This will not only help some guests to learn the details of your meeting, but will also become a bright element of the celebration.
Mailing invitation should start to do 3-4 weeks before the date of your wedding. So the guests will have enough time to prepare and plan a visit to your holiday.
Invitation content
Choosing the form of invitation you need to take care of their content. It all depends not only on your imagination, but also on the chosen style of the wedding, because it can be interesting to beat in the text of the invitation.
The text of the invitation to the wedding often make up in the classic official style. But this is not necessary, because you can come up with a funny text in a comic form, or you can even sign invitations in verses. If you have chosen an interesting theme for a wedding, then continue it in your invitations. The choice, of course, is yours, but we suggest that you familiarize yourself with our ideas.
Variants of the texts of the invitation to the wedding
Invitations should somehow characterize you and your wedding. Try to make a unique text that will be written by your style, words should come from the heart. In the meantime, we offer you options and the opportunity to choose a wedding invitation template:
1. Dear Lyudmila and Peter! We are glad to inform you that we have decided to get married. We would like to invite you to share this joy with us.
We are waiting for you on August 11 at 12:00 at the address ____________
Sincerely, Karina and Denis!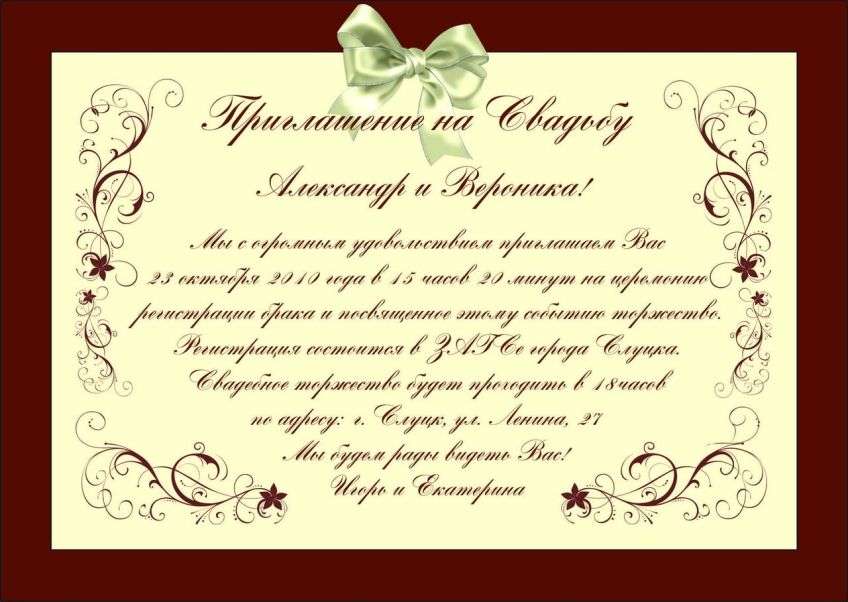 2. Ksenia and Andrew! We want to share with you the good news - we decided to forever unite our hearts and destinies. The official fixation of our sacrament of love will take place on January 12 of this year. Come to the registry office at 11.00, which is located at ________ address for the marriage ceremony. And at 16.00 we are waiting for you at the Domino restaurant (address ____________) to celebrate this event.
Loving you, Angela and Nikita
3. Alena and Sergey! May 23, put off all your business, because we invite you to our wedding. We really want you to witness our official vows to each other.
The exit ceremony will be held at 1:00 pm on the bank of the Dnieper River near the Ark restaurant at ________ address. The banquet will be held there.
Looking forward to you, Christina and Michael
4. Dear Anna! Create your own love story and want you to be present at its solemn beginning.
We will register the marriage on October 14 at the ZAGSE at ___________, and eat, drink and dance in the Tuscany cafe (address ____________).
We are waiting for you, Cyril and Anfisa
5. Our dear Aunt Marina and Uncle Andrei. June 10 will be the most important day for us - we will officially reinforce our desire to be together all our lives. This is very reverent and exciting for us, so we want close people to be near.
Our wedding ceremony will be held at 13.00 at _______, and the banquet will be held in the cafe "Evening" (address ___________).
We are waiting for you! Maxim and Arina
Themed Invitations
When young people organize a wedding in some style, it is necessary to withstand all the details in it and invitation is not an exception.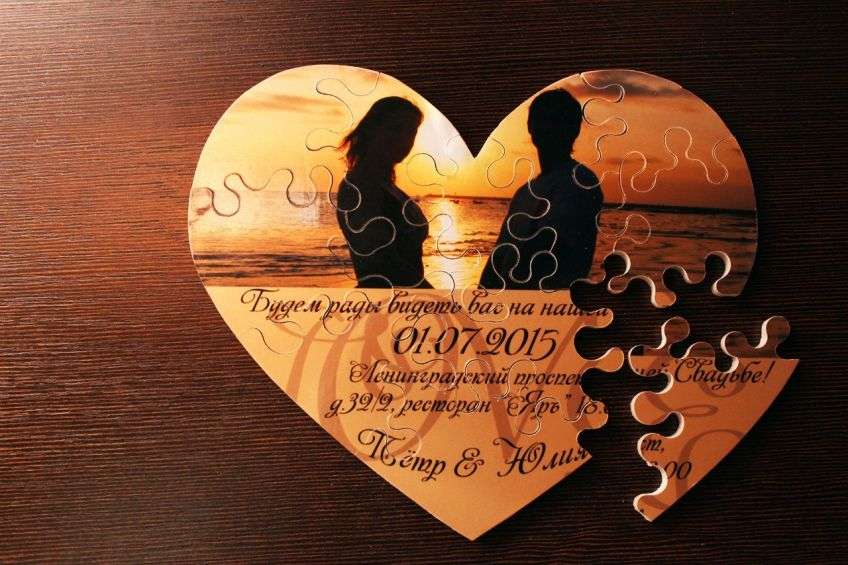 Such cards can be signed with interesting original text inserts.
For example, invitations to style wedding styag may look like this:
"Ira and Ruslan! URRRAAAA! We are getting married !!! And we invite you to our bright party "Hipsters". We will be glad if you support our idea to fill the banquet hall with bright colors and light on the dance floor. We are waiting for girls in bright dresses, and gentlemen in stunning shirts!
We will have fun in the cafe "Tuscany" at _________. Beginning at 18:00.
Julia and Matthew »
Having arranged a wedding in cinematic style on the invitation, you can write:
"Film studio Ira & Igor Kovalevy presents a romantic story of eternal love.
Starring: Ira and Igor
Love is born right here and right now.
We are waiting for guests at the premiere of the film in the cafe "Vienna" at _______.
Celebration in the gangster style will certainly decorate the invitation, which are signed as follows:
"Attention! Two influential clans RAVINSKI and BOROded will unite in one family. A party in this honor will be held on November 15 at 5:00 pm in the White Piano restaurant at __________.
We will listen to jazz and drink whiskey. Waiting for you!".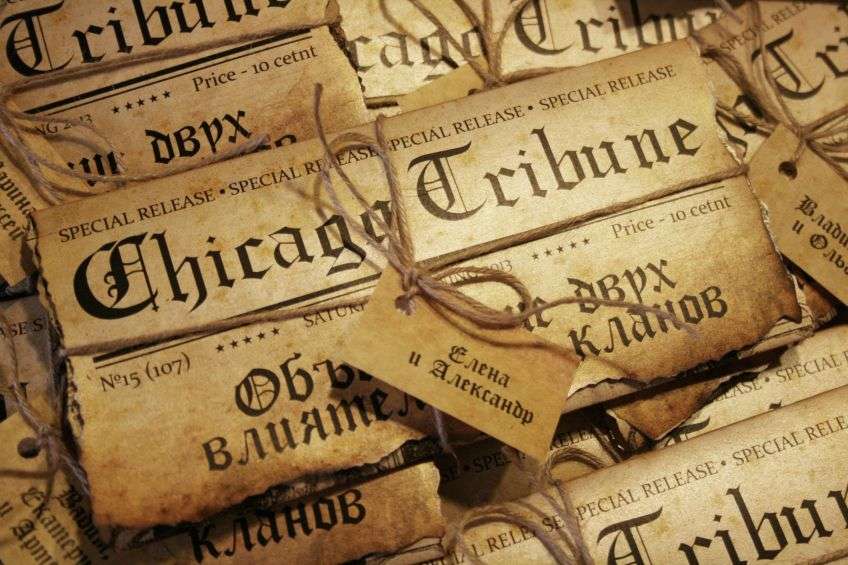 Cool Invitations
Despite the fact that a wedding is a very serious matter, it is pleasant when young people approach it with humor and add sharpness to their invitations. Fun invitations will surely make your wedding memorable.
We offer to sign your cool invitations in exactly this style:
1. Katya and Sergey! It will be a SOMETHING, an absolutely unique moment that happens only once in a lifetime. You are given the chance to see Anya in a stunning wedding dress and Stas in a strict suit, and also try a sooo delicious wedding cake!
Do not miss!!!! We are waiting for you on April 6 at 15.00 in the cafe "Rosemary" at ____________.
Anya and Stas
2. Dear Peter! We invite you to take part in a master class on the topic "Is there life after the wedding?", Which will be held on March 30 at 18.00 in the Opera restaurant at ________.
The funds collected at the master class will go to the fund to help the young Petrovs family.
Master class participants have more pleasant bonuses: smiles, kisses and a piece of cake!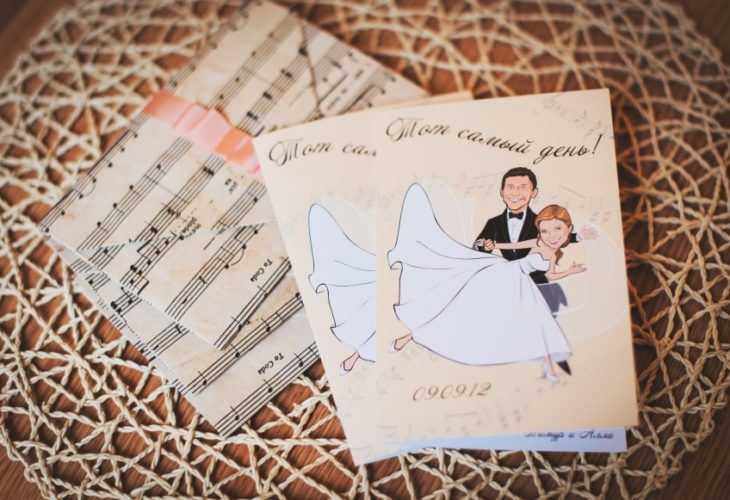 There are still many options for texts and the appearance of cards, but no matter how you decide to sign your invitation cards, the main thing is that they should be sent to the people with whom you want to share your happy wedding day.
Where to begin?
We invite you to take part in a master class on the topic "Is there life after the wedding?